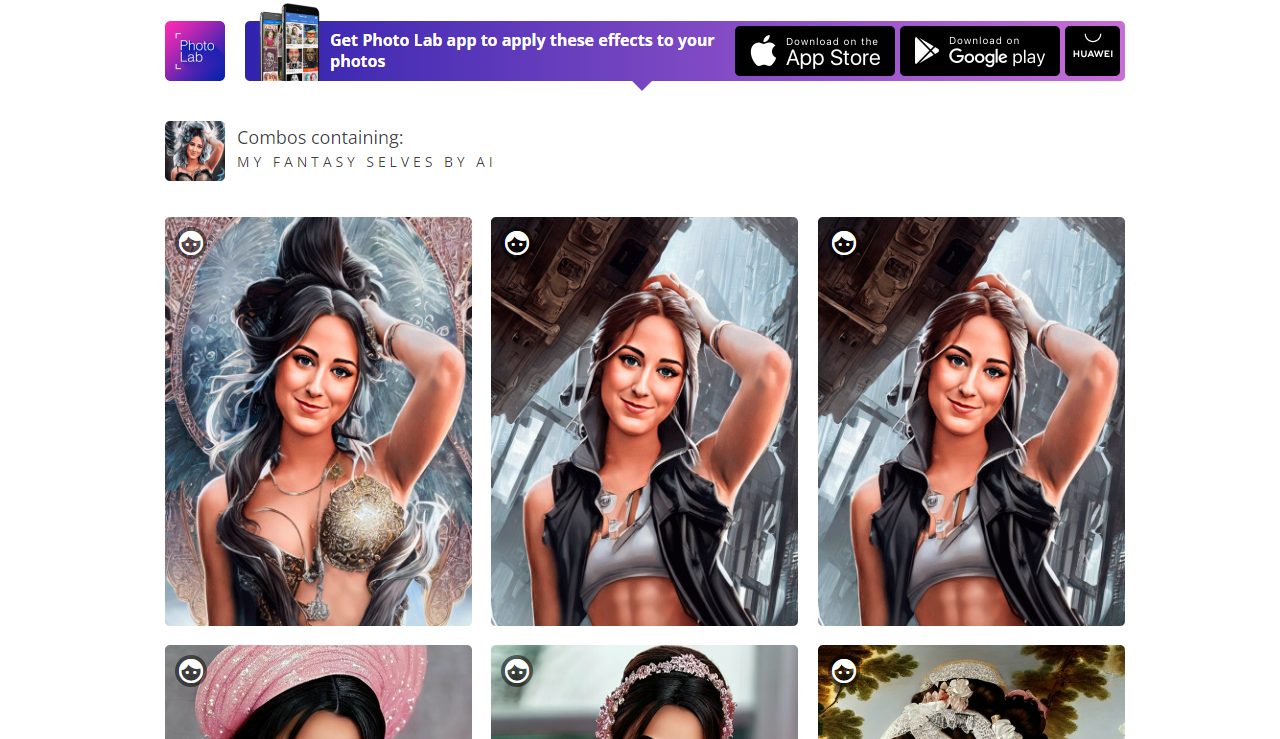 In the realm of photography and digital arts, artificial intelligence has made an indelible mark, reshaping the ways photos are taken, edited, and presented. With the rise of AI-driven photo editing tools, artists and casual users alike have found innovative means to elevate their visuals, ensuring that each image resonates with clarity, vibrancy, and emotion. Among the myriad of applications that have surfaced, Photo Lab has garnered attention, emerging as a preferred choice for many. This platform, an amalgamation of traditional editing techniques and modern AI-powered features, has redefined the boundaries of digital imagery, catering to users of varied expertise levels.
In this dynamic landscape of digital photo editing, there's a quest for tools that are not only efficient but also intuitive. Photo Lab, with its arsenal of features, responds to this demand, combining the essence of creativity with the precision of technology. As users navigate the vast seas of digital arts, applications like Photo Lab stand as lighthouses, guiding them towards achieving their envisioned results with enhanced ease and flair.
What is Photo Lab?
Diving into the world of Photo Lab, one encounters an interface that seamlessly integrates traditional photography tools with advanced AI-driven capabilities. What sets it apart is its commitment to preserving the integrity of the original image while introducing enhancements that elevate its visual appeal. From basic tweaks to elaborate transformations, Photo Lab offers a spectrum of options, making it a versatile tool for both novices and seasoned professionals.
Photo Lab begins its journey with the user by offering a comprehensive suite of features. Whether it's the allure of intricate filters, the precision of color correction, or the magic of AI-driven effects, this application is equipped to handle diverse demands. By providing a platform where creativity meets technology, Photo Lab ensures that every edited photo is not just an image but an artwork that tells a captivating story.
AI in Photo Lab: Deep Dive
In today's digitally driven age, AI has become the cornerstone of many software advancements, and Photo Lab is no exception. The infusion of AI into Photo Lab's framework has drastically changed the game for photo editing, opening doors to possibilities that were once considered unimaginable. By leveraging AI algorithms, Photo Lab can analyze images in-depth, recognizing patterns, colors, and structures, which allows it to suggest and implement edits that align with professional standards. This AI-driven approach ensures that each edit accentuates the image's best features while eliminating imperfections, making the final result look effortlessly flawless.
Beyond mere image enhancement, Photo Lab's AI functionalities have revolutionized more complex tasks such as object removal, background alterations, and facial feature enhancements. These processes, which traditionally required meticulous manual effort, are now executed within seconds, thanks to the application's intelligent understanding of image content. For instance, if a user wishes to remove an unwanted element from a photograph, the AI can not only identify and erase that element but also recreate the background seamlessly, ensuring that the image remains cohesive and natural.
However, the prowess of Photo Lab's AI isn't confined to technical tasks alone. One of its most commendable aspects is its ability to understand artistic nuances. Whether users are aiming for a vintage appeal, a dramatic noir effect, or a fantasy-inspired theme, the AI is adept at gauging the desired mood and applying corresponding filters and effects. By merging technological innovation with artistic sensibility, Photo Lab's AI transforms the photo editing process into an intuitive and enriching experience, allowing users to bring their most ambitious visions to life with unprecedented ease.
Editing Capabilities: Beyond Basic Adjustments
While many photo-editing platforms offer basic tools such as cropping, adjusting brightness, and contrast tweaks, Photo Lab stands out by providing an extensive suite of advanced editing features powered by its AI framework. For starters, the "Smart Enhance" tool can auto-detect the primary subject of an image, allowing users to bring focus and clarity where it's needed most, be it a portrait subject or a landscape feature. This can be particularly useful for images taken under less-than-ideal lighting conditions or when quick edits are needed on the go.
But where Photo Lab truly shines is in its specialized tools designed for detailed enhancements. The "Magic Retouch" tool, for example, can automatically detect skin imperfections, blemishes, or uneven skin tones and correct them without the user's manual intervention, rendering a magazine-quality finish to portraits. For those keen on experimenting, the platform offers a myriad of artistic filters. Whether you're looking to transform your photo into a watercolor masterpiece, a vintage sepia-toned snap, or a funky pop art piece, Photo Lab has got you covered. The AI-driven "Mood Adjuster" even suggests filters based on the ambiance or emotion detected in the photo, ensuring each edit complements the image's inherent vibe.
Downloading and Accessing Photo Lab
Navigating the world of photo editing apps can sometimes be overwhelming, given the plethora of options available. However, downloading and accessing Photo Lab is a hassle-free experience. Available on both Android and iOS platforms, the app can be found in respective app stores under the name "Photo Lab". After a straightforward installation process, users are greeted with an intuitive interface that simplifies the editing journey, even for those who are venturing into photo editing for the first time.
Once inside, the app organizes its tools in a user-friendly manner, with categories clearly delineated and tutorials available for more advanced features. For those who prefer editing on a larger screen, "Photo Lab for PC" ensures that desktop users aren't left out. By logging into their accounts, users can synchronize their edits and preferences across devices, ensuring a seamless editing experience regardless of the device being used. And for those worried about storage or offline access, Photo Lab's cloud integration ensures that edited photos can be saved and accessed from anywhere, anytime, without eating up device storage. This attention to user experience, combined with its robust editing capabilities, makes Photo Lab a go-to choice for both novice and seasoned photo enthusiasts.
See Also: EasyERP AI: Revolutionizing Character Creation with AI
How to Use Photo Lab?
1. Installation and Set-Up:
Download and Install: First, visit your device's app store (Google Play for Android or App Store for iOS) and search for "Photo Lab." Click on "Install" to download the app.
Open the App: Once installed, launch Photo Lab by tapping on its icon.
Initial Setup: The first time you open Photo Lab, you might be prompted to allow access to your device's camera and photo gallery. Granting these permissions will enable you to use the app to its fullest potential.
2. Choosing a Photo:
From Gallery: On the app's home screen, choose the "Gallery" option to pick a photo from your device's library.
Capture New: If you want to edit a fresh picture, choose the "Camera" option to capture a new photo.
3. Using the Editing Tools:
Basic Adjustments: On the editing screen, you'll find tools like crop, rotate, and adjust. Using these, you can modify the image's size, orientation, brightness, contrast, and more.
Effects and Filters: Scroll through the available effects and filters at the bottom. Tap on any effect to apply it instantly. You can adjust the intensity of the effect with a slider.
Artistic Transformations: Tap on the 'Art' tab to discover various artistic effects inspired by famous artists and styles. These effects can transform your photo into a work of art.
Adding Text and Stickers: Choose the "Text" or "Sticker" option to add customized text or fun stickers to your image. You can adjust the size, color, and orientation of the text/stickers.
4. Advanced AI Features: Photo Lab boasts several AI-driven effects and adjustments. From the main menu, navigate to the 'AI Effects' section. Here, you'll find options like "AI Background Removal" or "AI Style Transfer." Select an effect, and the app will process your photo using deep learning algorithms, resulting in transformative edits.
5. Saving and Sharing:
Save: Once you're satisfied with the edits, tap on the "Save" or "Export" option to store the edited photo on your device.
Share: You can also directly share your creation on social media platforms like Facebook, Instagram, or WhatsApp using the "Share" button.
6. Exploring More Features: Photo Lab offers a plethora of additional features, both free and premium. Explore the app, visit different tabs, and experiment with various tools to unlock its full potential.
Remember, like any other photo editing tool, the key to mastering Photo Lab is consistent practice and experimentation. The more you use it, the better you'll become at achieving your desired photo effects.
Photoleap vs. Photo Lab
In the ever-evolving landscape of photo-editing applications, Photoleap and Photo Lab have emerged as two significant contenders, each with its unique offerings and strengths. While both are designed to empower users to transform ordinary photos into captivating visuals, the way they achieve this is distinctively different.
Photoleap, primarily recognized for its advanced layering techniques and AI-driven editing tools, promises precision and flexibility. Whether you're a professional looking for intricate editing or a hobbyist seeking to add some flair to your images, Photoleap's robust suite of tools has been a game-changer for many.
On the other hand, Photo Lab is celebrated for its vast array of artistic filters and AI enhancements that can make even the simplest of photos look like they were taken by a pro. With its user-friendly interface coupled with powerful tools, it's no wonder that Photo Lab has secured its spot as one of the go-to apps for photo aficionados across the globe.
Now, let's delve deeper into a side-by-side comparison of these two platforms across several key dimensions to determine which might be the best fit for your editing needs.
| Feature/Aspect | Photoleap | Photo Lab |
| --- | --- | --- |
| Platform Availability | Available on iOS and Android | Available on iOS, Android, and PC |
| Editing Tools | Advanced photo editing tools with layer support | Extensive suite of AI-driven editing tools |
| AI Features | AI-driven object removal, sky replacement | AI Smart Enhance, Magic Retouch, Mood Adjuster |
| Filters & Effects | Wide range of filters, some unique to Photoleap | Broad selection of artistic and mood-based filters |
| Ease of Use | Intuitive interface with a slight learning curve | User-friendly interface with tutorials |
| Price Model | Freemium with in-app purchases for premium tools | Freemium, offers in-app purchases |
| Special Features | Layer editing, blending modes | Cloud integration, synchronizes across devices |
Note: This table provides a high-level overview based on available information as of the last update. Individual user experiences and specific tool functionalities may vary, and it's always recommended to check the respective apps or platforms for the most current features and offerings.
Common Questions and Concerns:
1. Is Photo Lab free to use? While Photo Lab does offer a variety of free features that users can access immediately upon downloading the app, there's also a pro version available. This premium version unlocks a plethora of advanced tools, filters, and effects, ensuring a seamless and ad-free editing experience. The choice between the free and premium versions ultimately depends on the user's requirements and the depth of editing desired.
2. What is the alternative to Photo Lab? Photoleap is a noteworthy alternative to Photo Lab, boasting advanced layering techniques and a comprehensive suite of AI-driven tools. Other alternatives include popular names like Adobe Lightroom, Snapseed, and Prisma. The best alternative for you depends on your specific editing needs, proficiency level, and desired outcome.
3. What country is Photo Lab app from? Photo Lab has its roots in Ukraine. The app was developed by VicMan LLC, a company renowned for its innovative approach to photo editing and its commitment to creating user-centric solutions. Their global presence has ensured that the app is tailored to cater to a wide audience, understanding and incorporating diverse aesthetic sensibilities.
4. Is Photo Lab a good app? Absolutely! Photo Lab has received acclaim from both casual users and professional photographers alike. Its easy-to-use interface, combined with a vast selection of artistic filters and AI enhancements, makes it a favored choice for many. However, as with any app, user preferences vary. It's advisable to try the free version first to see if it aligns with your editing style and requirements.
Conclusion
The transformative role of AI in photography is evident, and apps like Photo Lab exemplify this shift. For those in pursuit of perfection in their photos, a tool like Photo Lab, combining traditional techniques with AI, is indispensable. Whether you're a professional photographer or someone who loves capturing moments, Photo Lab promises an enhanced visual experience, one edit at a time.